In May 2023, two members of our team attended EASO's European Congress on Obesity 2023 in Dublin.
The opening plenary session included a detailed presentation from Sir Michael Marmot who outlined the state of health inequalities seen across the UK. The data was devastating and clearly outlined the extent to which health and weight outcomes are largely driven by socio-economic position in Western countries. In highlighting this, Marmot was also able to dismantle the long-standing narratives of individual responsibility and the use of educational interventions to improve outcomes (both have which failed for many decades). The message was clear; these are structural issues which require political action.
Over the next three days we were treated to a variety of the latest research and ongoing projects in all fields relating to obesity. Our attention was mostly grabbed by sessions on the commercial determinants of health and public health systems (at which our Whole Systems Approach co-ordinator, Robin Ireland, presented). OAS also produced a poster on our new focus group study (for which publications are coming soon) which was displayed in the main exhibition hall.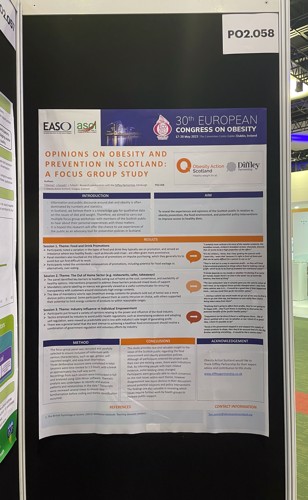 Obesity Action Scotland's poster on a focus group project hanging in the ECO2023 exhibition hall
Commercial Determinants of Health
A symposium on commercial determinants saw two speakers cover the area with very different lenses, underlining just how powerful these drivers are in influencing public health. The first, Professor Sharon Friel, provided a scoping review of the theory around commercial determinants and how modern economic systems are the main drivers of many negative health outcomes globally. She argued that changes in public and planetary health outcomes are unlikely to be achieved unless both are actively baked into the models of all businesses, including the food and drink industry. It was a powerful presentation, and a lot to take in at nine in the morning, but Professor Friel very effectively cut to the root issues of many global health issues while also shining a light on the need for more policy-based research to help bring change.
Following next was a presentation on the dietary impacts of online game advertising delivered by Travis Masterson of Penn State University. In contrast to the previous talk, Masterson was able to show examples of the very precise tactics used by the food industry to maintain prominence and sales of their health-harming products. Specifically, he demonstrated how growing 'big tech' platforms, such as the streaming site, Twitch, are able to use a combination of influencer sponsorships and in-game marketing to manipulate users into buying fast food products, completely unregulated. One of the more shocking insights showed a platform-user raising the issue of an advertised brand being associated with childhood obesity, only for their comment to be deleted by a platform moderator within seconds.
Whole Systems Approaches
Dr James Nobles from Leeds Beckett University was the first presenter in a session chaired by Dr Emma Boyland and Professor Harry Rutter entitled 'Systems Thinking to address Obesity and Public Health'. Nobles' presentation was itself called, 'Driving whole systems thinking to tackle obesity'. He began by noting that people used different terms to consider system level interventions and wondered whether we were always talking about the same thing and felt that terminology was a major barrier to adoption. Currently there is limited evidence on the value of systems-based approaches. Nobles used a Wider Determinants of Health Model to assess whether the actions used in systems approaches to obesity were sufficiently upstream in order to have a population-level impact. Nobles' recommendations for going forward included developing a global community of practice around systems approaches; achieving funding for implementation and study of systems approaches; building and strengthening the evidence base around systems approaches. The presentation concluded with Nobles saying that practice is outpacing research (particularly in the UK). We need to collectively better understand what is going on to advance the field. Dr Robin Ireland asked at what level Nobles felt a systems approach could be applied (local community, city-wide, national etc.)? Nobles replied by saying "at any level necessary".
There was a further session entitled 'Public Health Policy' the following day. The first two presentations were from Ciara Reynolds and Jenny Mack from the Institute of Public Health in Ireland and Northern Ireland who discussed the evidence base and policy options mapping informing the Northern Ireland Obesity Prevention Strategy Project Board. Dr Robin Ireland's presentation on 'Can local action impact effectively on determinants of healthy weight? Lessons from Scotland' was the final one in this session as he represented Obesity Action Scotland and its work in the area over the past four years. Ireland used the same Wider Determinants of Health Model as James Nobles in considering the actions of the Early Adopter Areas in Scotland for addressing diet and healthy weight. Robin highlighted the various approaches taken by regions across Scotland and provided real-world examples of their efforts, from community food larders to park-runs for children. Our recently published Innovation and Practice report describes Scotland's entire whole systems approach work since 2019.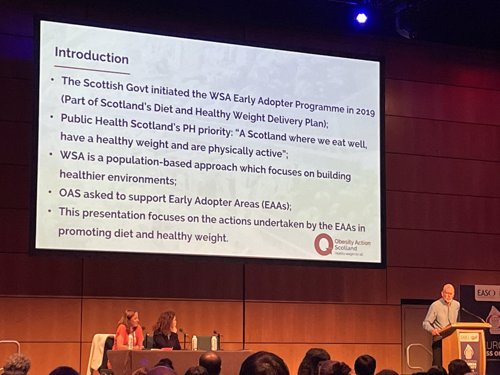 Dr Robin Ireland presenting Scotland's work on Whole Systems Approaches to healthy weight at ECO2023
Final Thoughts
It was interesting to note that there was a clear balance between sessions dedicated to obesity prevention and obesity treatment which, according to those who have been attending ECO for a long time, is a stark change from its earlier years. Prevention is now much higher up the agenda which is encouraging for organisations like ourselves as it shows a greater emphasis is being placed on the environmental drivers of weight outcomes in the research community.